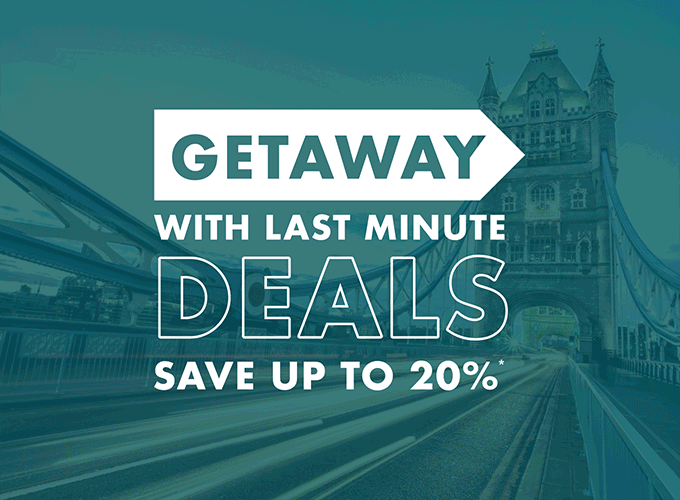 Getaway with last-minute deals save up to 20%*
Icons are waiting, but these deals won't.
Make a last-minute trip into the best travel experience by making it 100% effortless with Trafalgar. When we plan your completely immersive, personally connected and professionally guided vacation, you're showing up for a hand-picked adventure, with all the details taken care of.
Look for these limited-time deals on these trips and more…
USA: Coastal California & Big Sur: Features San Francisco, Monterey and more
Scenic Seattle, Portland and Oregon Coast: 8 Days I Features Seattle, Astoria, Portland and more
Best of the Canyonlands: 7 Days I Features Denver, Moab, Monument Valley and more
Journey Along the Civil Rights Trail: 9 Days I Features Memphis, Birmingham, Atlanta and more
Scenic Parks Explorer: 15 Days I Features Bryce Canyon, Yellowstone and more
Welcome to Colorado: 10 Days I Features Boulder, Aspen, Mesa Verde and more
EUROPE: 13 Days I Features Isle of Capri, Assisi, Florence and more
Best of Portugal: 11 Days I Features Lisbon, Algarve, Porto and more
Best of Greece: 8 Days I Features Athens, Olympia, Meteora and more
Great Italian Cities: 10 Days I Features Rome, Florence, Venice and more
Best of France: 13 Days I Features Paris, Lyon, Avignon and more
Great Italian Cities:
Scandinavian Northern Lights: 10 Days I Features Helsinki, Kiruna, Stockholm and more